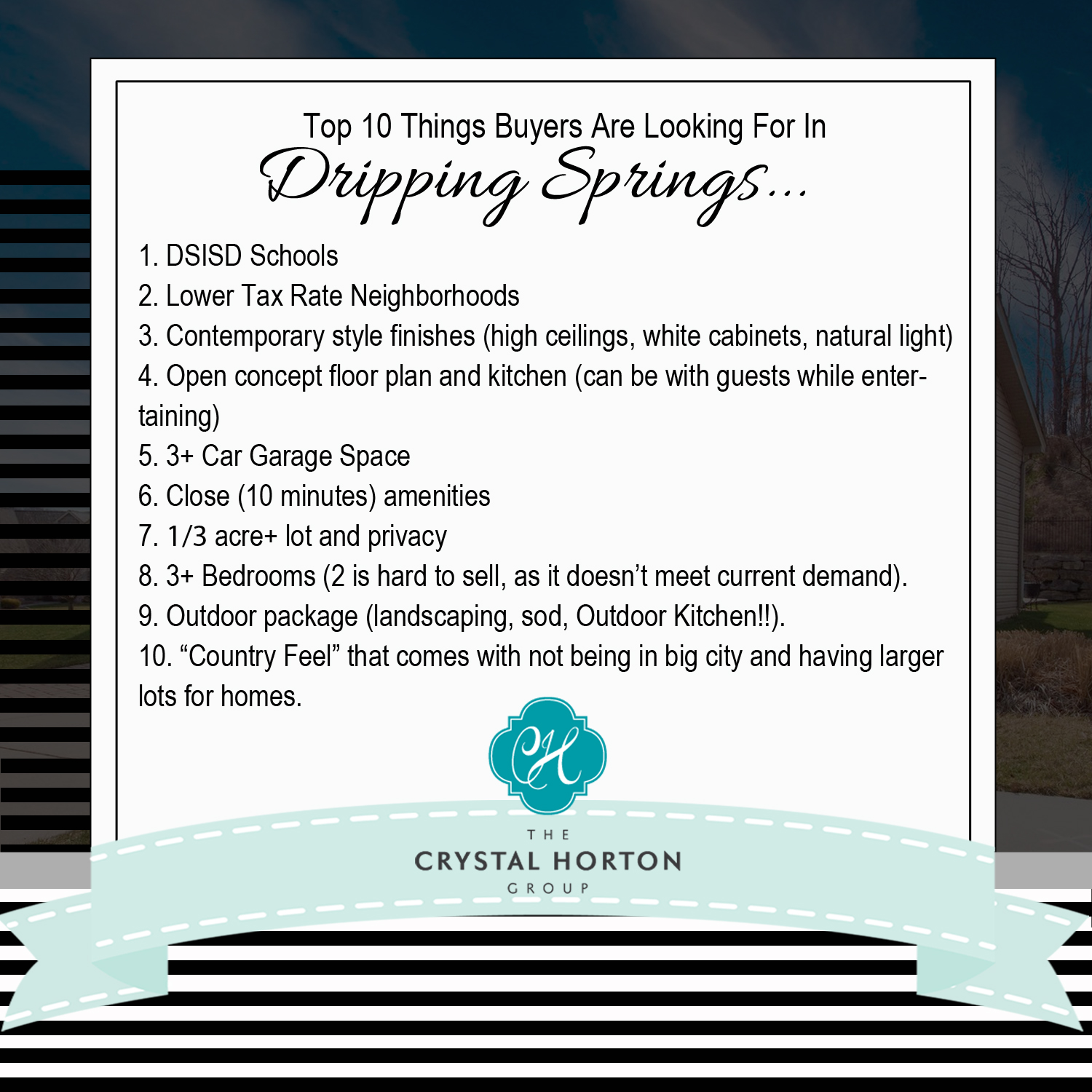 Schools:
The number one pull factor for Dripping Springs area home buyers is the DSISD school district. The DSISD school district is ranked in the top 10% in Texas, and is also in the top 10% of Best Public High Schools in the country1.
Tax Rate:
The Tax rate in Dripping Springs also appears to be a major pull factor for homebuyers. There appears to be a trend of buyers looking to move out of neighborhoods with a higher tax rate to those with lower taxing rates. However, not all buyers have this mindset, some prefer to be in these higher tax rate neighborhoods due to amenities, or believe that it may be worth the price for being close to the DSISD schools.

For example ($500,000 house):
| | |
| --- | --- |
| Tax Rate | Price Per Year in Property Taxes |
| 2% | $10,000 |
| 3% | $15,000 |
Contemporary style:
Another large factor in home buying is the shift to contemporary style. Many new construction homes are being built with higher ceilings, white cabinets, gray colors, larger windows, and natural light, which all give off a more airy, natural feeling.
Open Concept Floor Plan and Kitchen:
An open concept floor plan and kitchen are also high up on a buyer's list, and has the potential to make or break a deal. More home buyers are seeking properties with large, open concept floor plans. They also want a large kitchen that is integrated into the open concept feel, and not isolated off to the side. These buyers want to be able to cook, entertain, and be with their guests, instead of being put off to the side away from them.
3+ Car Garage Space:
With the large demand in outdoor activities and hobbies, nearby towns have created venues such as off-road parks, ATV trails, biking paths, car and motorcycle clubs, etc… to cater to this need. Due to the proximity of these venues, people in Dripping Springs are utilizing them more and more. This is a fun way to spend a weekend, but it also creates another issue: where do you store your extra vehicles and bikes at? These buyers have more vehicles and thus need more garage space to store all of them. This prompted the average garage size to increase from 2 cars to 3+ cars, to accommodate people's hobbies and storage needs.

Close Amenities:
Many buyers find it very desirable to have nearby amenities. Many buyers do not mind driving a little ways (10 minutes) to get to these nearby shopping centers, hiking trails, and other businesses. Homebuyers find Belterra Village as a very big pull factor when deciding which area of Dripping Springs to buy a house in. The nearby hardware store, gym, movie theatre, and restaurants in Belterra Village are all convenient and in close proximity to neighborhoods.

Acre+ Lot Size and a Feel of Privacy:
Many home buyers are looking for a larger sized lot. The average lot size of new construction homes is now of an acre. If the house is built toward the front of the property, this leaves the buyer with a reasonably sized backyard. The other aspect of a larger sized lot is the desire to have more privacy. This can be achieved by privacy fences, landscaping, or even the way the house is oriented.

3+ Bedroom House:
Many buyers, especially those with children, are looking for a house with at least three bedrooms. Even if you don't have children, those extra rooms can be very useful for guests during the holidays, or other family gatherings. There are some nearby listings of two bedroom houses, with the ideal buyer being a family with the kids in college, or "empty nesters." However, with the current housing demand, these two bedroom houses have proven difficult to re-sell after a few years of ownership, as more buyers are looking for larger houses.

Outdoor Package (Landscaping, and outdoor kitchen):
According to popular demand, many buyers in the Dripping Springs area are looking for houses with an "outdoor package." A house with an "outdoor package" is typically one that has landscaping, an outdoor fireplace, sod, an outdoor kitchen, or a combination of any of these. Many people in Dripping Springs love football, and love to tailgate. They also love to grill and cook. This has created a demand for an outdoor kitchen. Buyers are starting to look for outdoor kitchens in homes to aid them in entertaining, tailgating, and other outdoor activities.

"Country Feel:"
More and more buyers are coming to the Dripping Springs area to escape the big city life, and everything that comes with it. These buyers love the open, quiet, rolling landscape and love being immersed in nature. This feeling comes from not being in a crowded neighborhood, and from having a larger sized lot to enjoy more outdoor space.
Researched and written by: Patrick Roy, Intern to CHG